"Competing on Analytics" was published 10 years ago, and is as relevant to business success today, as it was then.  At Corios, we wanted to build on the Davenport team's important work by identifying: if a business enterprise finds itself in a particular rung of the analytics maturity ladder, what should it do to climb to the next rung?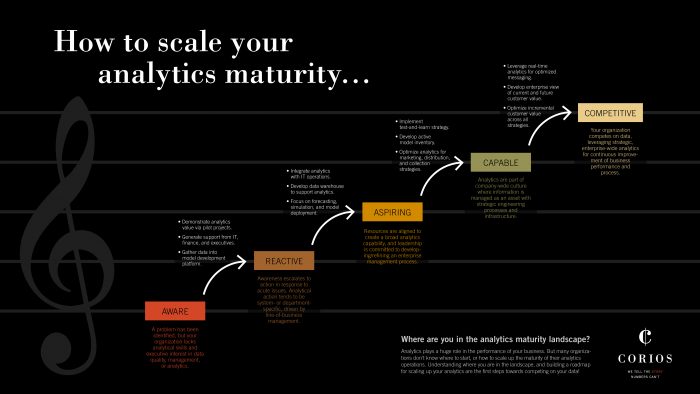 Using the team's analytic maturity tiers, we conducted our own qualitative and quantitative research in the field, based on decades of our own analytics practitioner and management consulting experience, gained through client engagements. We believe this provides a unique perspective, versus traditional approaches like survey research or interviews.
In partnership with The International Institute of Analytics, we developed an analysis of analytics maturity. We scored client cases on a range of measures, both qualitative and quantitative, in order to determine the characteristic qualities of companies at each tier of analytics maturity.
From a universe of over 200 engagements, we selected 60 engagements across 57 unique client organizations around the world (including the US, Canada, Europe and Australia). Once rated, we used statistical methods to assign each client into a cluster. We then analyzed the recommendations we delivered to each of these client engagements, and synthesized the similarities of those recommendations, and have summarized them here.
A: Competitive
Increase speed of deployment for models using transaction-level detail;
Increase alignment of IT with the business and analytics teams;
Increase alignment of analytics with business management, and between business teams;
Increase tech savvy of business teams
B: Capable
Build a larger analytics team
Build larger lists of more sophisticated models;
Develop a broader understanding of analytics among leadership, and a stronger alignment between analytics and decision making;
Develop the capability for real time scoring deployment
C: Aspiring
Drive cultural change to embrace analytics from the executive level down;
Repair the fractured relationships across business teams;
Move analytics from IT to the business, starting with a centralized team;
Develop a stronger alignment across customer strategy, and a more holistic use of analytics across products and strategies
D: Reactive
Increase analytics sophistication and capabilities, and grow the size of the analytics team, to maintain scale with business growth and demand for analytics;
Create stronger alignment between analytics and business, and among analytics teams throughout the enterprise;
Build a central analytics data repository;
Increase familiarity of business leadership with analytics capabilities
E: Aware
Build a customer analytics orientation from top-down;
Create visibility for the contribution of analytics towards revenue-contributing objectives;
Build an analytics data platform and company-wide initiatives to increase familiarity with analytics capabilities;
Modernize analytics skills among a centralized analytics team;
Increase IT agility in support of analytics and IT alignment with the business from the top down
To learn more, download our free book Skate Where the Puck is Headed.