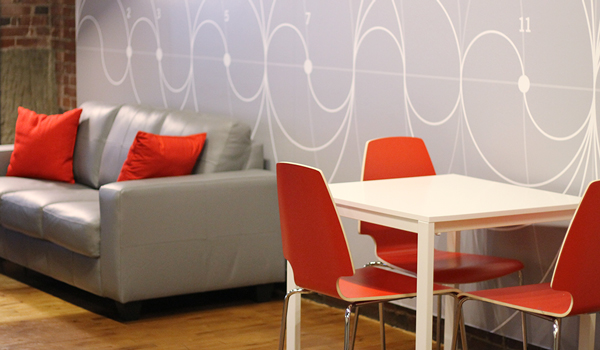 Since its inception in 2010, the Corios team has experienced tremendous growth. What started as a one-man operation out of President Robin Way's home has since transformed into a team of 15 analytics professionals operating out of company headquarters in downtown Portland.
As our client base, service offerings, and internal operations have grown, we've made a continued effort to invest in top-of-the-line infrastructure and programs to support our best-in-class team. From annual planning retreats to a robust professional curriculum, we aim to ensure that every Corios employee is engaged with the purpose of our company and empowered to do their best work.
Earlier this year, we acquired additional office space for our growing operation, and saw an unprecedented opportunity to create an inspiring work environment that reflects our living, breathing culture. After significant research, space planning, designing, and getting our hands dirty – we're thrilled to share our new office space with you!
Inspiration for redesign
Emerging research has shown that thoughtful office design can boost productivity, morale, and creativity for businesses. But beyond the quantifiable benefits, it was important for our office to delight our team and to further demonstrate to clients a deeply-held belief of the Corios team – when numbers are presented in a thoughtful, intentional manner, the result can be stunning.
One of the most impressive additions to our office is a mural that spans an entire wall in our conference room. Though the artwork appears merely as stunning curves and lines to the naked eye, it represents a real data visualization of the prime numbers and relationships (see the inspiration in an online version). What better way to showcase the beauty, simplicity, and story that numbers hold?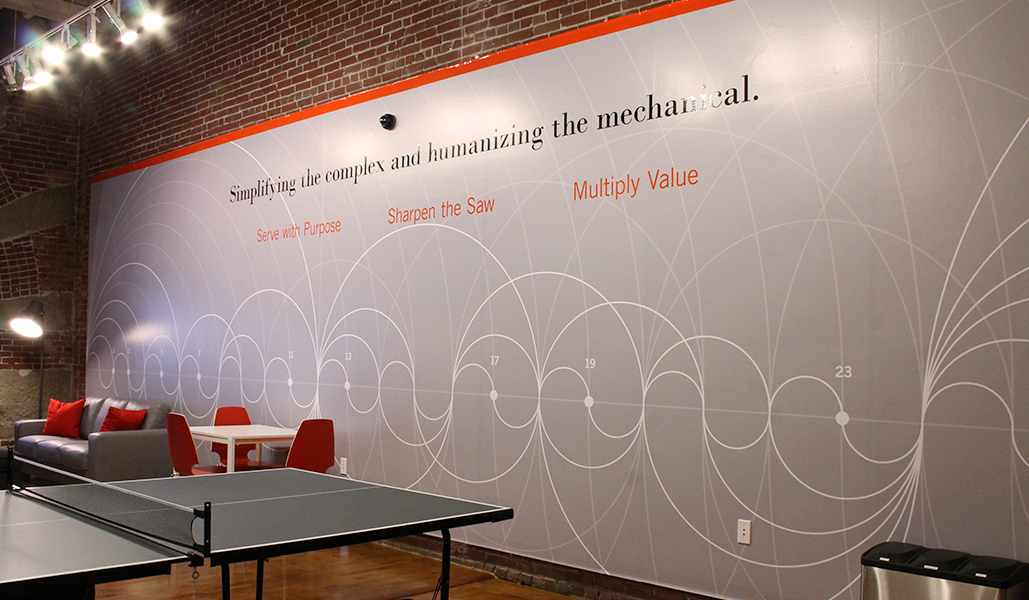 Thinking big pays off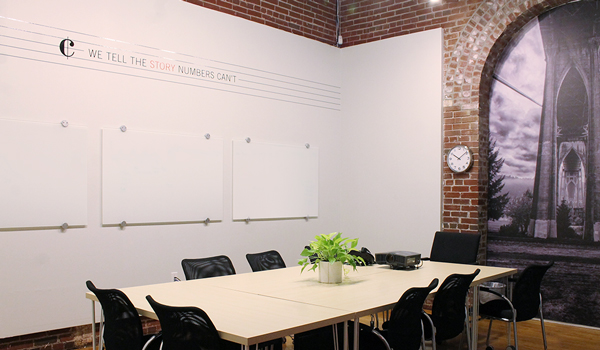 Our clients and Corios team members have experienced the value of our new addition: it's served as an ideal environment for meetings where we can spend a couple days deep-diving into strategy together. The space provides a rare opportunity for our clients to break free from the noise of a corporate office and brainstorm in an exciting and highly creative atmosphere. Plus, we all enjoy the rich environment and culture of our location in downtown Portland.
"The outcome of our office redesign has been more transformative than I could have imagined," says Corios President Robin Way. "Our clients have truly appreciated the space, and our employees are even more proud to work here. The redesign is an impactful expression of the evolution of our business and how Corios is moving forward."
We're welcoming our clients to come experience our new space – email us or give us a call at 503.295.1685.
Think you might be a fit for the Corios team? Visit our Careers Center to view our open positions.